Ashland City Mayor Glenn Stewart sat down with Kate and C-Beezy Wednesday morning to recap the city's summer happenings and the updated city website. Check it out here at www.ashland-ohio.com!
Read Article →

Academic Advisor Heidi Jones joins DJ Spectrum and The Southern Belle for The Early Bird's Word to discuss scheduling and give advice.
Read Article →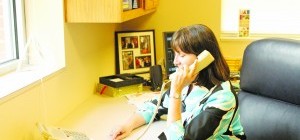 Dean of Students Sue Heimann sat in with C-Beezy and Kate during the first show to discuss summer changes, new staff and students on campus.
Read Article →