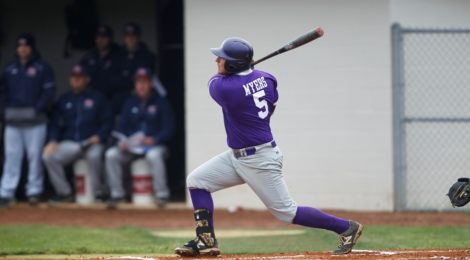 Ashland University Baseball began their final home series of 2016 at Donges Field by sweeping the Malone Pioneers two straight games on Friday, Apr. 29th.
The Eagles began the day with a 4-3 win over the Pioneers, followed by a 4-1 victory in game two of their four-game series with Malone.
Junior third baseman Lance Myers had an impressive day offensively for the Eagles, going 2-for-4 with 2 RBI's and a walk-off home run in the bottom of the seventh inning in game one.  Myers' walk-off home run was his first as an Eagle.
Junior RHP Brandyn Sittinger took the mound in game one of the series, throwing a complete game, improving to 9-0 on the year. He gave up six hits and three runs, while striking out seven.
With their two wins to start their final home series, the Eagles improve to 27-14 overall, 18-4 in GLIAC play and 14-2 in the GLIAC South Division.
Both of the Eagles' wins over Lake Erie can be heard in their entirety below.