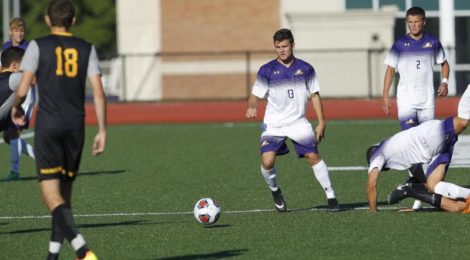 Ashland University Men's Soccer played host to the Northwood Timberwolves on Friday, Sept. 25, falling to the Timberwolves 2-1.
The Eagles entered halftime knotted at zero with the Timberwolves, but couldn't seem to find the back of the net enough in the second half.
Ashland was able score one goal during the 56th minute when freshman midfielder C.J. Maynard gave the Eagles their first goal.  Northwood tallied two goals in the second half, in the 47th and 73rd minute.
The Eagles are now 4-8-1 on the year and will return to Ferguson Field on Sunday, Oct. 16, when they host the Saginaw Valley State Cardinals.
The Eagles' matchup with Northwood can be heard in its entirety below.