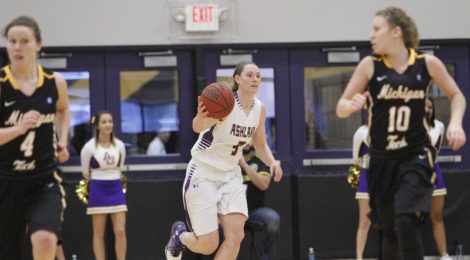 Ashland University Women's Basketball advance to the 2017 GLIAC Tournament Championship game after defeating the Michigan Tech Huskies 81-59 on Saturday, Mar. 4.
Inside Kate's Gymnasium, the #1-seeded Eagles dominated the Huskies after halftime, scoring 28 points in the final period.
Three Eagles scored in double figures, as senior guard Kelsey Peare led all scorers with 17 points, on 7-8 from the field, including 3-3 from the three-point line.
The Eagles now prepare for their GLIAC Tournament Championship game on Sunday, Mar. 5, at 3:00 p.m.
The Eagles' victory over Michigan Tech can be heard in its entirety below.