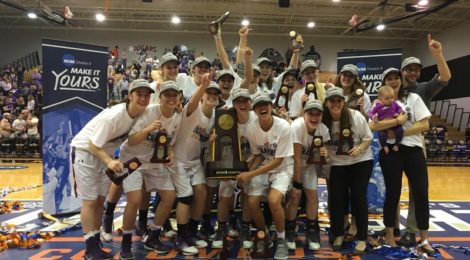 Ashland University Women's Basketball captured the 2017 NCAA Division II National  Championship after beating the Virginia Union Panthers 93-77 on Friday, Mar. 24.
Inside Alumni Hall on the campus of Ohio Dominican University, the #1-ranked Eagles outlasted the Panthers, completing the perfect season at 37-0.
Five Eagles scored in double figures in the title-clinching victory – freshman guard Jodi Johnson (19 points), junior forward Laina Snyder (17), sophomore guard Maddie Dackin (14), senior guard Kelsey Peare (13) and junior forward Andi Daugherty (13).
Ashland now holds two of the four 37-win seasons in Division II women's basketball history, having won 37 games each both the 2012-13 season and 2016-17 season.
The Eagles' National Championship victory over Virginia Union can be heard in its entirety below.