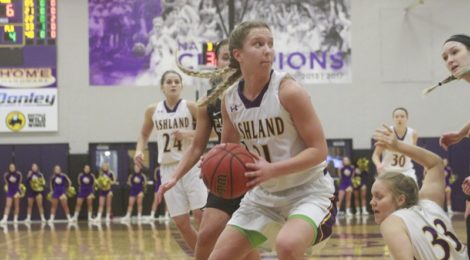 The #1-ranked Ashland University Women's Basketball team continued their impressive winning streak after dominating a pair of GLIAC foes.
On Thursday, Jan. 11, the Eagles downed the Grand Valley State Lakers 83-67 after senior forward Laina Snyder posted her 42nd career double-double, scoring 24 points and grabbing 11 rebounds.
The Eagles were able to finish the weekend unscathed after defeating the Purdue Northwest Pride 120-47 in blowout fashion on Saturday, Jan. 14, picking up their 54th consecutive victory.
Led by sophomore forward Jodi Johnson (19 points and 10 steals), the Eagles forced 46 turnovers against the Pride.
The Eagles will return home to Kates Gymnasium on Saturday, Jan. 27, when the play host to the Tiffin Dragons.
Both of the Eagles' victories over Grand Valley State and Purdue Northwest can be heard below.
(Photo courtesy of Ashland Athletics/GoAshlandEagles.com)