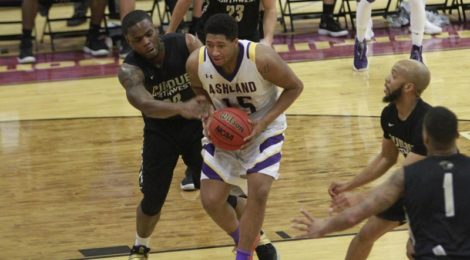 Ashland University Men's Basketball improved to 14-3, and have now won nine straight, after beating Grand Valley State and Purdue Northwest in GLIAC play.
On Thursday, Jan. 11, the Eagles downed the Lakers 89-80 inside Kates Gymnasium, scoring the final nine points of the game.
Against Grand Valley State, the Eagles were led by senior forward Wendell Davis who scored 22 points, while grabbing seven rebounds.
The Eagles finished the weekend by escaping the struggling Purdue Northwest Pride on Saturday, Jan. 13, winning 78-66.
Against the Pride, the Eagles were led by Marsalis Hamilton, who scored a season-high 21 points.  Hamilton also became the 27th player to score 1,000 points for the Eagles.
A full rebroadcast of the Eagles' victories over the Lakers and Pride can be heard in their entirety below.
(Photo courtesy of Ashland Athletics/GoAshlandEagles.com)