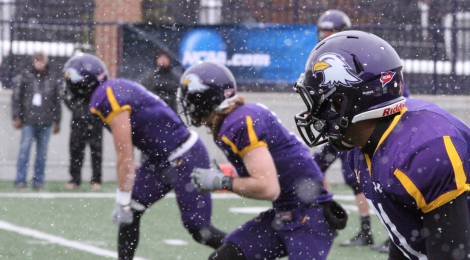 WRDL Sports will bring more Ashland University athletics broadcasts than ever before this fall.
With a total of 13 broadcasts, WRDL will once again be the campus home for every home Eagle football game and two road games. WRDL will also broadcast an unprecedented six AU volleyball matches this fall.
Below is an entire broadcast schedule for the 2014 fall sports season.
FOOTBALL
Saturday 9-6 vs Lake Erie 7pm
Saturday 9-13 vs Walsh 7pm
Saturday 9-20 @ ODU Noon
Saturday 9-27 @ Findlay 3pm
Saturday 10-4 vs Malone 7pm
Saturday 10-11 vs Saginaw 1pm
Saturday 10-25 vs Northern Michigan 1pm
VOLLEYBALL
Friday 9-19 vs Michigan Tech 7pm
Friday 10-10 vs Saginaw 7pm
Saturday 10-11 vs Wayne State 6pm
Tuesday 10-28 vs Lake Erie 7pm
Friday 11-7 vs Hillsdale 7pm
Saturday 11-8 vs Findlay 2pm
GLIAC Tournament TBD (if Ashland hosts)
Underwriting sponsorship during the games is still available. For information about sponsorship, please contact WRDL Faculty Advisor Steve Suess at (419) 289-5137 or at his email address, ssuess@ashland.edu.